Welcome to Year 1!
The teacher in Sparrows class is Miss Canavan and the teaching assistant is Mrs. Simmons. The teacher in Owls class is Mrs. Plaha and the teaching assistant is Mrs. Clarke. We are all very much looking forward to working alongside you to help your children develop over the school year.
In Year 1, this year we are working hard to read as much as possible at home, learning spellings and completing homework, enabling us to achieve our full potential.
Please make sure your child has a full PE kit in school for their PE lessons. Sparrows have PE on Wednesdays and Owls have PE on Wednesdays. 
Celebrating Success 
Every Friday a child in the class will receive a certificate in Celebration Assembly for impressive work in the week.
Please check on the gallery to see which children were chosen during this week!
Homework 28.4.2017
Here is the gruffalo text map alongside the model text. Enjoy!
This weeks homework 10.3.2017
As promised in the children's homework book, here is a run through of how we have been teaching multiplication using circles and crosses.
Silver challenge - multiplication
Kingsbury Partnership sports event
Some children were chosen from Owls and Sparrows class to take part in a Kingsbury Partnership sports event at Sutton College. The children were brilliant! They showed of their superb skills in a range of games and activities such as tennis and football.
The children represented Birches Green Infants School very well! They showed respect and excellence all morning - Mrs Terheege and Mrs Humphries were very proud.
Here are some photos showing the children in action:
Alien crash landing!
The children in Sparrows and Owl class made an exciting discovery today! There was an alien invasion outside and the children had the chance to go out and explore what had happened! The children spotted a UFO that had fallen from the sky and lots of materials lying around that fell from the ship.
The children had lots of exciting ideas of where it could have come from and who could have escaped from the site. The exploring has set up for an exciting week learning our new text map!
Here are some pictures of the children exploring:
Sustainability: what is waste?
The children have been exploring what waste is and how we can reduce it. The children learned that all of their rubbish goes to a landfill and takes many, many years to disintegrate into the Earth. We learned about the importance of reusing items and recycling items.
The children in Sparrows were very good at recognising the types of things that can be recycled such as plastic bottles, tins and cans and paper!
We played some games about recycling and wrote down some important facts about reducing waste.
Design and Technology: Soup Making!
This week we have explored the importance of eating healthy food and thought carefully about how we could get those healthy foods into our bodies. We decided that a healthy soup would be a great way to do this so that's what we did!
The children were very sensible and made some beautiful, healthy soup. We used potatoes, leeks, carrots, tomatoes, vegetable stock and a tin of tomato soup to make it nice and thick.
Here they are preparing the vegetables:
RSPB Bird Watch 2017
During our final week of Spring 1, we were very lucky to have Lucy from RSPB come into school and take us outside to do some bird watching! We wrapped up warm and headed outside with our clipboards and binoculars to go and explore the area and see what we could find.
We spotted some really exciting birds, including some Sparrows!
Sparrows Visual Maths impact workshop!
A big thank you to all of the parents, family members and other adults that came to support our little sparrows in our Maths impact workshop.
The children have all been working really hard in their lessons to learn how to do Maths with this new approach and I know that they were very eager and excited to show their adults their new learning.
I hope that you found the workshop useful and can use it to help support your children at home.
Here are some photographs from the morning!
Miss Canavan
Year 1 homework
As mentioned in the homework books, please see below for the video of the children performing the text map and the model text. We hope this helps!
History
In history we have been learning about Nurses in the past and present. This week we learnt about Mary Seacole. We experienced a carousel of activities to help us develop our knowledge on Mary Seacole.  We created factfiles on the computer, writing about important information we had learnt.
The children really enjoyed role playing. Some of them were injured soldiers in the Crimean war and some of them were Mary Seacole nursing them better.
We used the Ipads to find out more information and recorded this on our whiteboards.
Maths
In Maths this week we have explored using time to measure. We did a carousal experiment in Sparrows class. We used the timer to allow us one minute (we learnt that this is 60 seconds!) to do a range of different activities. We estimated how many of each thing we would be able to do before we started to see how close we could get to our estimate.
Using our fine motor skills to pick up paperclips using tweezers and chop sticks.
How many words we could write on a whiteboard in one minute!
How many balls we could roll using playdough.
How many shapes we could cut out in 1 minute.
Show and Tell
Each Friday, as a reward for the children working so hard throughout the week, we have some time to share some of our things from home.
The children can bring in something they would like to share with their class mates - this can be a family photograph, a toy or a special outfit! The children have really enjoyed showing each other respect by listening carefully to each other and allowing each other to share things that they love!
Here are some photographs of our children sharing:
Gymnastics Core task assessment- Spring 1
The children in Owl class were asked to come up with a sequence using balances, rolls and shapes. The children could remember some rolls from last half term, however they needed support with making shapes and balancing. They also found it quite tricky to build a sequence, however they had a really good try!
We will be working on shapes, balances and sequences to prepare children for their final core task assessment.
P.E Core task: Athletics
The children in Year 1 have started their new P.E unit on Athletics. This week we did our core task to show our teachers what we are good at and what we can get better at. The children practised walking, jogging, hopping and jumping. They also worked in relay teams to pick up bean bags.
The children needed support with relay work. We will focus on this in the next few Athletics lessons this half term.
Spring 1 - Superheroes!
We have started to look at our new topic this term which is... SUPERHEROES!
At the beginning of the week, the children were introduced to Superhero 'SuperLearn!' This special superhero ran into our classroom and told us all about her costume and powers she has!
We have used this as a stimulus for children to think of their own superheroes.
This week the children have explored writing character profiles for their own superheroes. We have had some super ideas with some phenomenal powers and crazy costumes.
We have also begun to explore what we already know about Superheroes.
We had some superb ideas:
"Superheroes fly and have super powers."
"Spiderman can shoot webs."
"They fight baddies!"
"Sometimes they have to save people who might be in trouble."
We can't wait to do some more work on Superheroes!
Final week!
During our final week at school for the Autumn term, the children got up to some exciting activities!
We had to plan and prepare for our year group party. We wrote some lists to show our teachers what party games we could play. Some of the games included musical statues and pass the parcel.
We also got to choose some of the music that could be played at our party! We chose hits from One Direction, Little Mix and 'Gangnam style'. We also listened to lots of Christmas songs.
We had to make our own food for the party! We got to work with Mrs Clarke and Mrs Simmonds to spread, cut and eat some delicious sandwiches!
We also had to design our own party hats. We used lots and lots of glitter and glue. After all this hard work we finally got to have some fun dancing, singing and playing games!
After lots of fun, we had a very special visitor!
We sang him song beautiful songs to say thank you for our presents! You can see us singing below!
Singing for Father Christmas!
Making calendars and cards
We also made some brilliant calendars and cards. This year, because we are becoming more independent, our teachers only gave us a little bit of help and the rest was all us! Miss Canavan and Mrs Barham were very pleased with how original and beautiful all of our work was! Here are some pictures of us creating them!
For these activities, we got to practise our fine motor skills through the cutting and sticking and we got to have some fun too!
A special delivery!
This week we had a very special visit to school. Mrs Clarke and Mrs Simmons went to the office and Father Christmas' elf's had been to Birches Green School and left us a letter each!
The children in Sparrows first thought that the letter was from Goldilocks, apologising for eating baby bear's porridge. Kaya spotted a special stamp from the North Pole and straight away the children knew what bearded man had sent the letter.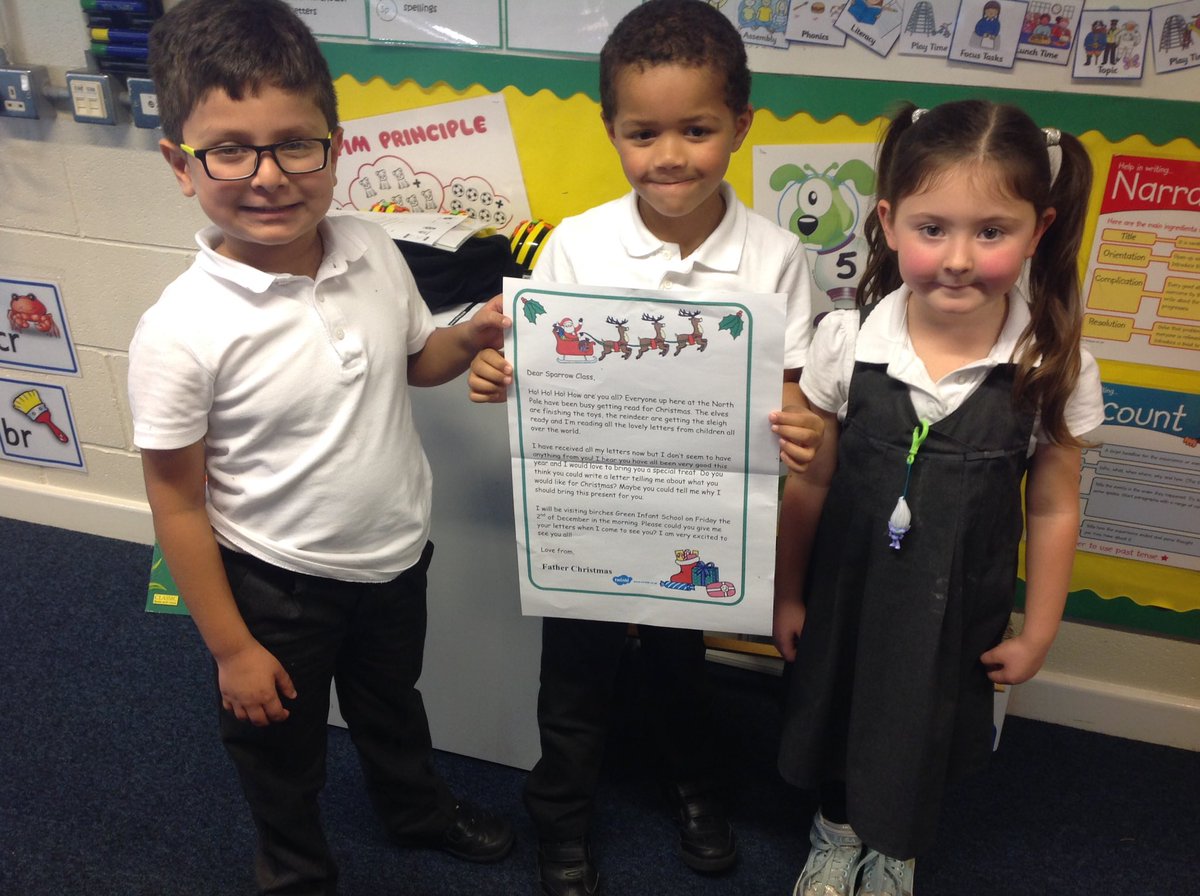 The children in Owls class were very excited to receive their very own letter from Father Christmas himself. They were too excited for a discussion and ripped it open straight away.
After exploring the letter, we made a super toolkit for writing a letter.
The children explored what you needed in a piece of text for it to be a letter. We looked at different types of writing and sorted them into the correct groups before doing the fun part. Deciding what we wanted to ask Father Christmas for! Throughout the week we will be exploring letter writing and the things needed in a letter before writing our own for our visit from the man himself on Friday!
Multi Skills in PE
During this term we have been exploring multi-skills in PE. Next term there is a year 1 multi skills competition and so Mrs Terridge is looking out for super team players!
We have been exploring a range of techniques including throwing, catching, defending, attacking, moving tactically and working as a team.
We have been playing lots of fun games! The past 2 weeks we have been developing our bench ball skills. This has meant we have had to work hard as part of a team to pass the ball and score points. We have really thought about the passes we have been making.
Anti Bullying Week
This week we have been learning all about bullying, how to prevent it and how to deal with it. We made some posters to show that bullying is not accepted at Birches Green Infants. Bullying is when it happens...
STOP - Several Times On Purpose
Dinosaur Planet!
Year one arrived after the holidays to find a special visitor had been in the classrooms! The children were shocked to find that 4 dinosaur eggs had been left and mysterious footprints had been left on the carpet. Due to all of the excitement, the children have had some brilliant ideas about where the eggs could have come from.
We thought they could have been left by:
Bunnies, hens, dragons, dinosaurs, bears and chickens!
The eggs have given us an exciting thing to write about. We even got the chance to see a news report at Birches Green Infants. We were so surprised that our school cameras caught videos of the dinosaurs roaming around our classrooms! We used our imaginations to develop ideas about what the dinosaur could have been doing here!
After such an exciting first day back we are super excited to learn all about Dinosaurs!
The Little Green Dinosaur
We read the story of the Little Green Dinosaur. We made our own story maps, then changed the destinations in the story by adding our own destinations. We told our stories to each other and we also wrote our own story in our Big Writing session. 
Dance in Year 1- 'bird dance'
This half term we have been looking at the way different animals move and recreating those movements in Dance. Over the past few weeks we have been developing a bird dance.
First of all we watched video clips of birds taking off, flying, gliding and landing.
Next we imitated those movements in PE.
Then we worked with a partner and mirrored each others moves.
After that we worked in larger groups.
Finally we watched recordings of our dances and evaluated them
Our evaluations of the dance.
"Everyone was doing the same thing" Kaylee
"They were lifting their arms really high" Ronnie-Mae
"At the end we were all clapping" Amina
"Everyone was gliding and doing the same moves"Taiyarna
"It was phenomenal" Kaci (this is Mrs Harvey's special word!)
"Perhaps you could do a twirl next time" Mrs Simmons
"We could all bow at the end" Kaylee- she then demonstrated the bow
Stranger Danger!
We had a visit form the police this week to tell us about keeping safe around strangers. We watched a video and then role-played what we should do if we were approached by a stranger who we didn't feel safe around. If we are worried they told us to go to the police, a shopkeeper or a mum, with children for help. They also told us to shout "NO!" very loudly if we were unsafe. 
Visit from the police
What a busy week!
This week we had a visit from a lady called Geraldine from the Blue Cross. The Blue Cross works to ensure animals are cared for and safe. Geraldine told us all about how we can keep safe around animals. We practised how to cross our arms around us to show dogs that we are not a threat, then we practised how to crouch into a ball if we were being attacked by a dog. 
Blue Cross Visit
Geraldine also came to the year 1 classes to talk about how to care for our pets. 
Caring for pets
Parents were invited to a Phonics IMPACT workshop this week where they found out how we teach Phonics in Year 1.
We have been designing and making cages for animals as part of our D.T lessons. First we drew a picture of what we wanted our cages to look like, then we wrote a list of what we needed to make it. On Friday we made the cages. We used boxes, string. wool, sticks. glue, masking tape, sellotape, tissue paper, tubes, scissors and more. Some of chose to work with our friends, some of us chose to work independently. We worked really hard and had great fun while we made our creations. Some of us were very imaginative too! Take a look at what we were doing...
Throwing the ball to Bobby.
Having fun with Bobby!
This week we were really lucky to have Mrs Harvey bring in her dog Bobby!
We wrote some questions to ask Mrs Harvey to find out what she does to look after Bobby. Some of these included "how did he learn to do tricks?" and "what does Bobby eat?"
On Thursday, Bobby came into school. We learned a special safety technique to use when a dog is near. When we first saw Bobby, Mrs Harvey taught us to stand with our arms across our chests and to hold our heads down. This let Bobby know that we did not want him to jump up us. We can show you this at home.
Once we knew about staying safe around dogs, we got to have some fun! We all had the chance to throw the ball to Bobby using a ball thrower. We were all able to throw it really far and Bobby chased after it! We all found it very funny.
By the end of all that catching Bobby was very tired so we went back into class and Mrs Harvey took Bobby home for a nap. In class we wrote about what we did with Bobby! We used some amazing adjectives and conjunctions in our writing to make our sentences more interesting.
Science this week was looking how animals use camouflage to keep themselves safe.
We all pretended that we were owls searching for butterflies to eat. We found that the camouflaged ones were harder to find.
This is what we found out.
In Science we have been classifying animals according to what they eat. Are they carnivores, herbivores or omnivores?
In PE this half term we are developing our gymnastic skills. We looked at different ways of balancing and rolling today.
Week 2 of year 1!
This week we have been working very hard in Mathematics and Literacy! In Mathematics we have been working on our addition skills and have been able to write number sentences and answer them correctly. In literacy we have been using some amazing adjectives in our writing to describe the feelings of different characters in a video. We also got to play some high frequency word games to help with our spellings and explore writing with play dough to develop our spelling and fine motor skills.
We have also been working hard in Science, Geography, Art and in our reading.
In Science, we have been sorting and classifying animals into herbivores, carnivores and omnivores. In Geography we have been exploring different continents and the types of animals that live there. We have been developing our drawing skills in Art!
This week Meynat received Sparrow's celebration assembly certificate for being a brilliant role model to her class mates with her manners and behaviour.
In Owls, Oliver received the celebration assembly certificate for his fantastic addition work!
Elie from Sparrows also received the Head teachers award for this week! Mrs. Stevenson was impressed with his kindness when she saw him helping a younger child in school.
Well done Elie, Oliver and Meynat!